Back to all posts
Posted on
Design funding approved for a new K-12 school in Manning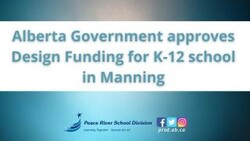 For immediate release
March 11, 2021– Peace River School Division (PRSD) is pleased to announce government approval for design funding for a new kindergarten to grade twelve school in Manning. Design funding approval provides funding for the project to be fully designed, to prepare drawings and specifications and to capture project expenses.

"A new K-12 school in Manning is the number one priority on our Capital Plan and we are very excited to move forward with the design process" says PRSD Board Chair Darren Kuester.  "There are many efficiencies and cost savings of having both schools under one roof, plus having a new modern facility translates into greater opportunities for students."

Currently PRSD has two schools in Manning; Manning Elementary School (MES), a kindergarten to grade six school, and Paul Rowe Jr. Sr High School (PRHS), a grade seven to twelve school. Should the Alberta Government approve the construction design, the new school building would house both MES and PRHS in a K-12 school.

The project first appeared on PRSD's 2006-2009 Capital Plan in the form of a request to Alberta Education for funding to undertake a comprehensive facilities utilization review of PRSD's schools in Manning due to the age of Manning Elementary School and because of the under-utilization of space from a natural decline in enrolment at both MES and PRHS. In 2016, the Alberta Government approved funding for the comprehensive review known as the "Value Scoping Process" which included representation from PRSD, the Alberta Government, and various organizations and community members in Manning.

During a press conference held yesterday, Education Minister Adriana LaGrange announced the design funding as a part of the Alberta government's new school projects announcement. Specifics regarding the funding amount for the design process and timeliness are not known at this time. Approval for the funding required for the construction contract is approved at a later date to allow the funding to be more aligned with the timing of the anticipated tender and subsequent construction work.

PRSD will continue to share details with the public as soon as it becomes available.